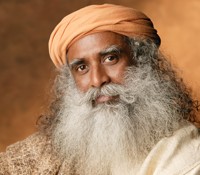 What is Isha Kriya? – as stated by the website created by the Isha foundation  itself.
Isha kriya is an Internal action which has been created by the Sadhguru to help an individual get in touch with the source of his existence.
Sadhguru is a well known and a respected spiritual master a yogi from India who is also the founder of Isha Foundation. A non-religious, not-for-profit, public service organization, which addresses all aspects of human well-being.
In my search of a perfect meditation practice which can help me to find peace, enhance my abilities to deal with my sudden mood changes as well as help to build increase my emotional quotient. I find Isha Kriya which is available as an guided meditation on Isha foundation website.
http://www.ishafoundation.org/Ishakriya
As stated in the mediation itself, it is an 14-18 minute guided mediation, a 3 step process. Sadhguru has asked an individual to do this meditation for twice a day for first 48 days or once daily for first 90 days for better results. Today, I have completed my 90 days of doing this meditation, at least once a day.
What are my experiences doing this particular guided meditation and after knowing what is isha kriya?
I must say, If I can delete 2 incidences within these 90 days when I can say that I was n

ot able to take charge of my own emotions as I would liked have achieve, I have done pretty well within my professional as well as personal life is concerned.
Now I can easily say that I have more awareness about my own emotional state. However, I will continue to practice more following this Isha Kriya. You can download this meditation video or sound track free of cost by giving your name and email address on the Isha Foundation website itself.
http://www.ishafoundation.org/Ishakriya
You can watch the following introduction video to Isha Kriya and to know better about "What is Isha Kriya?".
With Best Regards….